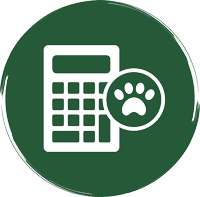 Payment Policies – All Your Questions Answered
Our Finance team answer all your questions about insurance claims and payment.
My pet is insured, but I don't fully understand how the insurance process works?
For more detailed information on insurance and how we can help please see our Pet Insurance leaflet.
My pet is insured, what do I do next?
We would advise that you contact your provider to advise them of the referral made to us. Some insurance companies specify in their terms and conditions that they need to be kept informed of any referrals and to be advised of where your pet has been referred to.
My pet is insured, what information about this insurance policy will you need from me before the appointment?
Which insurance company you are with (once we know the level of treatment required we may need to seek pre-authorisation from them before starting treatment)
What level of cover you have
Whether your insurance provider has any 'Capped' fees or a preferred specialist referral centre list
What the excess on your policy is (some companies also have a co-payment percentage that forms part of your excess)
What is a Pre-authorisation?
Davies may need to obtain pre-authorisation from your insurance company before any treatment begins. This is to ensure they will cover the cost of the recommended treatment. To do this we will need to know the name of your insurance company and your policy number. Some insurance companies require the owner to request a pre-authorisation.
My pet is insured, but what happens if my insurance company advise that you are not on their preferred referral list?
Some insurance companies incur an additional charge of £200 if you select a Referral Centre not on their list – don't worry we will reimburse this charge, click here to read more.
My pet is insured, but do I still have to pay for treatment myself?
We encourage indirect claims. An indirect claim is when you pay for the treatment at your appointment or on collection of your pet and then your insurance company will reimburse you after you have paid the invoice. This type of claim may also be called a policy claim.
My pet is insured, can you help me fill in the forms for an indirect claim?
Yes. So we can help you process your insurance claim and ensure you are re-imbursed you will need to leave a fully completed and signed claim form with us when you first visit Davies. We aim to process these within 5 working days.
My pet is insured, what is a direct claim and do Davies offer direct claims?
A direct claim is where your insurance company will reimburse Davies and you don't pay for the treatment directly at your appointment or on collection (although you will be required to pay the excess). Davies does not routinely make direct claims, however, they can be arranged with certain insurance companies under certain circumstances. (See our Direct Claims Q and A Factsheet).
I would like to ask Davies to do a direct claim, what do I do?
You must discuss this with our Finance Team prior to arriving for your appointment, before your initial consultation with the vet and prior to any investigations or treatment being undertaken. See our information sheet on direct claims here.
What methods of payment do you accept? 
We accept all major debit and credit cards apart from American Express and Solo/ Diners cards. We also accept bank transfers and bankers drafts, but we do not accept cheques.
I don't have insurance and will be paying for treatment myself, what do I do?
Our normal terms are that full payment is expected at the time of your appointment. If your pet is left with us then you can pay on collection. Our team will keep you updated if there are any changes to the estimated cost.
Do Davies offer any Finance options?
Yes we do offer something called Care Free Credit. Please call and speak to our Finance team if this is something you are interested in. You find our contact details here.
I'm insured with a member of the RSA group, what does this mean?
Please see our factsheet here.
My Insurance company won't cover all of the invoice – why is this?
This is because your policy may have a 'capped fees' stipulation. We encourage you to check this when first contacting your insurance company to inform them of the referral to Davies.
What information do I need to bring with me on the day of my appointment?
So we can give you the best advice, we need some key details about your policy. Please make sure you have the following information ready for your first appointment:
Your policy number
The level of cover you have
Whether your insurance provider has any 'Capped' fees or a preferred specialist referral centre list
What your excess is
Check if your company has a co-payment percentage that forms part of your excess
Before your first appointment you should contact your insurance company to let them know about the referral to Davies.
Please bring a completed claim form with you to the appointment if you wish to make an insurance claim.
If you wish to apply for a Direct Claim you must do so prior to any appointments or treatment.
Linnaeus Veterinary Limited trading as Davies Veterinary Specialists 01582 883950
©2020 Davies Veterinary Specialists